English Page
〜 Welcome to Shakujii Int'l Orchestra!  Since 2013 〜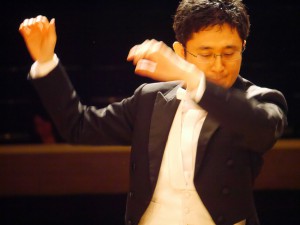 Thank you for visiting the Shakujii Int'l Orchestra (SIO) website!
In January 2013, under the guidance of our Musical Director, Mr. Kunitomo Nishitani, the Shakujii International Orchestra was founded in Shakujii Park with a vision to reach out to the world. Affectionately known as "ShakuOke," we continue to enjoy active participation and warm support from our members and the local community.
Our recent activities include collaborations with professors from overseas music universities in our regular concerts, international activities, and contributions recognized by the Jamaican Ambassador through the donation of musical instruments. We are also fortunate to have the guidance of Professor R. Haken of the University of Illinois in the USA during our masterclasses.
Both our orchestra and its members are constantly growing through our activities. We learn and enjoy music in a free and lively atmosphere, filled with laughter, with the Shakujii Park Cultural Center as our main practice venue.
Our activities have been covered by various media outlets such as NHK-BS, J:COM, Nerima NPO News, and online platforms. We've also participated in the Nerima Ward's "Midori no Kaze Community Concert" and appeared on the NHK-BS show "Nippon Burari Railway Journey" in March 2018.
So far, we've performed challenging pieces such as Tchaikovsky and Dvorak's "String Serenade," Mendelssohn's "String Octet," and Bartok's "Divertimento for String Orchestra" during our regular concerts.
In addition, we actively cooperate with the Kunito International Youth Orchestra as a sister orchestra.
. The members of SIO share a passion for music and strive for constant improvement. Thanks to their hard work, SIO has been rapidly progressing!
Kunito Nishitani
〜 Join! 〜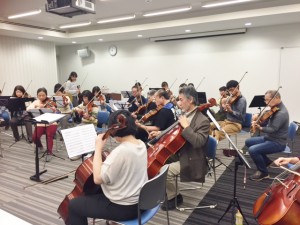 SIO is currently recruiting positions for violin, viola and cello!
The players of SIO are now mostly Japanese speakers, but non-Japanese speakers are also welcome!
Conditions of recruitment:
1. Adults (including college students)
2. Enjoys playing music with others.
3. Comfortable shifting string positions (ie. 1st to 3rd).
Entrance fee: 3,000 JPY
Monthly fee: 3,000 JPY (1500JPY for each rehearsal)
If you are interested in joining SIO or have any questions, please feel free to send an e-mail to the SIO office (shakuoke@gmail.com)!
〜 Practice schedule 〜
Rehearsals take place twice a month on Saturdays.
Place: Shakujiikoen Furusato bunkakan, 1st Flr, at Meeting Room (mostly)
Access: https://neribun.or.jp/access/furusato.html
Time: 19:25-21:15
Thank you for your interest in SIO!
Contact: shakuoke@gmail.com